I will. I promise. I will.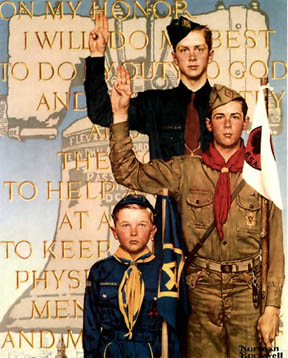 Boy Scouts of America is celebrating its 100th Anniversary in 2010. The American Legion has been a partner with Boy Scouts since our first Convention in 1919. There are 2500 local Boy Scout Troops and Cub Scout Packs throughout the nation sponsored by local American Legion Posts. The imprint Boy Scouts leaves on the young men carry far beyond their youth, and often well-into adulthood as they continue to serve using the lessons and teachings of this timeless program. _____________________ I can't recall how young I was when I first met Gene, but since his son was my same age, it's likely we met on the soccer field or baseball diamond. Growing up in a small town multiplies these opportunities, so his role as a leader in my Cub Scout pack, wasn't mere coincidence. Good parenting, from which I benefited greatly, may be the pounding force that shapes a child's character, but ongoing exposure to moral values outside the home provides the fiery tempering necessary to strengthen them for life. My memories of Cub Scouts could be painted onto a Norman Rockwell canvas. Hours toiling with my dad in the garage carving, painting and shellacking the perfect Pinewood Derby car, and second attempts the next year after grandiose ideas of racecars were hampered by the lessons of friction and acceleration. Days spent at my local den leader's home fabricating leather, wood, and other crafts that sometimes still appear at my parent's house. Meticulous creation of cakes, carefully shaped and frosted in hopes of winning the grand prize, while being beaten by a kid who made his resemble a kitty litter box. Gene, the Pack Master, would be horrified to learn these are my memories of those days and years. For I'm sure as a young parent, he had the same ideals I now hold for my son who recently joined Cub Scouts. I've preached Scouting is the basis for all of life's lessons; if you can't recite the Scout pledge and oath, we've failed. Every single nice boy you ever meet in the grocery store, at the local high school football game, or in church was a Scout. You will be one of those boys son, and you WILL uphold the ideals of 100 years of Scouting. I ran into Gene recently, well actually, our lives collided. His wife had begun helping him submit a claim for VA compensation and had what many would call a typical VA experience. Stop by the VA office and fill out an application. Return another day with necessary material in hand to substantiate the claim for benefits. Have a meeting with another staff member and learn the paperwork submitted the first visit was on the wrong form and unnecessary. Return a third time when told that more applications needed to be completed. She was at wits end trying to understand a bureaucracy and agency that prides itself on living out Lincoln's mantra. This frustration and sorrow was supplemental to the real tragedy and challenge of her life. Gene, once a athletic Little League coach, a respected teacher at the local high school, and my Pack Master had fallen to the effects of Agent Orange exposure. Treatment of throat cancer led to insertion of a voice box in his stoma. Followup radiation decreased the bone strength in his jaw and subsequent loss of teeth. As if this wasn't enough to challenge the now diminutive Marine, dementia had set in robbing him of the ability to understand his lot in life. She was his 24-hour caretaker. He followed her to each and every medical appointment and trip to the local VA office like a small child unable to function in an adult world. Unbeknownst to me, Gene was like many proud warriors that returned during the height of Vietnam. He had done his duty and yet came home to an ungrateful country unwilling to separate the warrior from the war. In his disgust at this treatment, he lashed back at the system designed to help him. He never sought treatment or benefits with the VA. He hung his uniform up and hid the stories from his wife, family, and eventually his children. With his fiery temper, he was damned to never seek solace in the system to which he had earned a rightful place, yet treated him so wrong. But dementia has an uncanny ability to send you on a path other than your choosing. His employer kept him working as long as possible. Gradually changing his assignment to easier and easier tasks until even sweeping the floor was no longer possible. He became dependent upon his wife and family to help administer his medications and care for even his most trivial needs. And when seemingly it could get no worse, his fiery temperament returned to lash back at those who loved him the most – the close family there to support him. Gene's wife, a battered, weary and tearful woman, only slightly reminiscent of my friend's mother I met so many years ago, discovered my association with the American Legion and our service officers. She brought in a four-inch binder with medical evidence, military documents, and VA applications. She related to me her frustration and efforts in a pursuit for benefits with the local VA office. She outlined the advice given her by others and lamented on the fact that Gene's insurance would be ending soon. After relating this all, she looked at Gene and turned to me while a tear fell down her cheek. "Help," she quietly pled. Beside her sat a hollow Gene, half the person he once was, happily smiling as if the tears in our eyes were from laughter and not sorrow. He remained blissfully unaware we were conspiring to get him the help he had fought against for so long. I knew in my mind what we had to do as American Legion service officers, but deep in my soul, I was moved by something far stronger. At that moment, the Pinewood Derby cars, cakes, crafts, and skill awards suddenly took hold, and I was haunted by words we would recite before each meeting.
I promise to do my best; to do my duty to God and my country; to help other people.
Today was my test, a test on a set of values and skills taught so long ago by the shadow of a man who sat across from me. "I will. I promise. I will."
Posted in Uncategorized, the burner | 0 comments